DID YOU KNOW THAT MOST FABRICS ARE MADE FROM PETROLEUM BY-PRODUCTS?!
Gross. It's our mission to replace icky items with better-for-the-earth, crafted products that are delightful to use.
Fifty-One Thousand Trees
Every day 51,000 trees are cut down to create paper towel + napkin products for the U.S.A.
Half Are Really, REALLY Bad
In one test, 50% of napkins tested released a high quantity of toxic and carcinogenic chemicals.
Water Wasters
The paper industry uses more water to produce a ton of product than any other industry.

Organic + Sustainable Materials
Rosemary's strictly uses organic fabrics; organic cotton is grown without toxic substances and polluting pesticides, grown in healthier soil.

Low Water Usage
Rosemary's uses a digital printing process that reduces water usage and results in long-lasting colors.

Guilt-Free Washing
No micro-plastics ever! Polyester fabric (including micro-fiber) releases plastics into the water cycle - yuck. Our natural fabrics do not do that.
NICE TO MEET YOU
MY NAME ISN'T ROSEMARY
As a designer, I have always created useful items for my own home. After watching my own family fall in love with my handmade organic napkins and paper towels, I knew others would as well.
Thank you for shopping here.
By doing simple things, creating processes that replenish the earth, and committing to change, we can leave this place inhabitable.
Oh, and Rosemary is a combination of family names that came to me in a dream when I was trying to figure out what to do with my life. That's the story. Get back to emptying your wallet on this website and making the world better now please. Jk. Kind of.
LESS EVIL, BETTER GOODS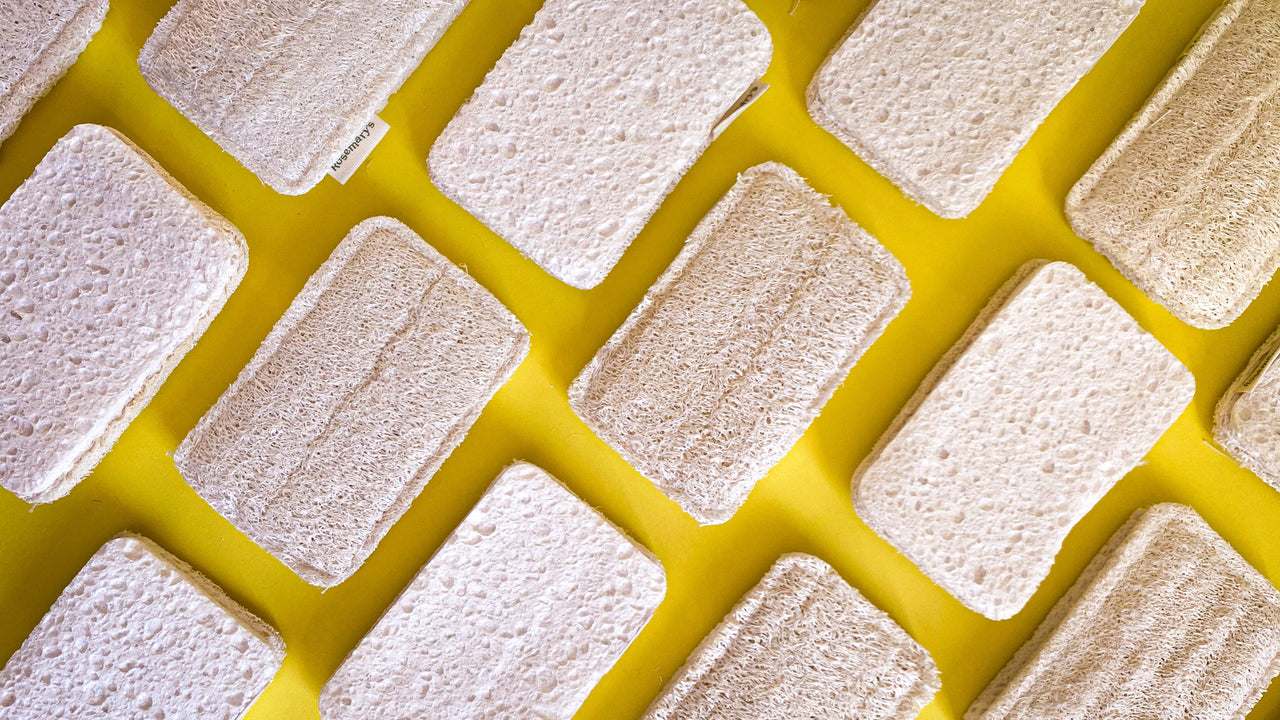 Buckle up because we're about to unravel the exciting world of loofahs – these quirky, nature-born wonders make up the scrubbing part of our Cleaner Sponge. We won't lie, we are loofah fan-girls and the goal of this blog post is to indocrinate you into loofah fandom as well. Let's not delay, here is our best and brightest loofah propaganda: What is loofah? First things first, let's answer the most important question, what the heck is a loofah? Most people first encounter the loofah outside of it's natural habitat, as a bathing scrub buddy, but they didn't start there. Here are our most favorite loofah facts: Botanical Origins: The loofah plant, scientifically known as Luffa aegyptiaca or Luffa cylindrica, is a member of the gourd...
Are you ready to embrace your inner Captain Planet and clean up our kitchen situation? This post addresses three practical things you can try - and only three, because it is impossible to clean up every aspect of our lives at once, little steps, when adhered to, make a more significant impact over time. Our tagline is Less Evil for a reason - trying to be completely evil-free is a recipe for disaster (tangential, but applicable: check the success rate of abstinence programs if you want evidence).  Without further ado, here are three easy ways to make your kitchen more earth-friendly. 1. Upgrade to Glass Containers One switch worth making is upgrading plastic food storage containers to glass ones. In the short term, you won't have to worry about harmful chemicals leaching into food...
View all articles
DON'T MISS A THING
Sign up for news, updates and drops.